Post by georgek on Oct 11, 2016 3:59:35 GMT 1
Before I demonstrate my point, I would like you to read the following link.
uforesearchnetwork.proboards.com/thread/3594/proving-mind-demonstrate
At this point of time, I have been transferring some of my files from my old computer to my new one, and came across this:-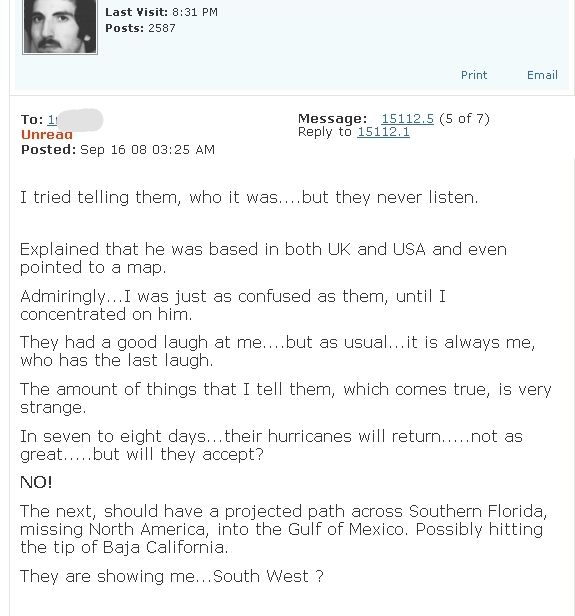 I was debating secular beliefs at the time on a forum, and I mentioned that the founder was Anglo/American giving the name
Jeffrey J. Lowder.
as he owned the forum. They had a good laugh at me at the time, saying that I was a charlatan and a fake and that it was actually owned by a different person.
I was laughed and scorned at as usual with hilarious laughter from all the secular adepts who pointed out that it was owned by someone else.
The boss came along and reprimanded me, by saying that he had no idea how I could have possibly known, but the reason why he intercepted was because this person was still a member and his rights had to be protected. Well...they got angry as it was THEM who became the fools as they were the experts and knew nothing of their founder.
infidels.org/library/modern/jeff_lowder/
Internet Infidels, Inc. is a Colorado Springs, Colorado-based nonprofit educational organization founded in 1995 by Jeffery Jay Lowder and Brett Lemoine. Its mission is to use the Internet to promote a view that supernatural forces or entities do not exist (metaphysical naturalism). Internet Infidels maintains a website of educational resources about agnosticism, atheism, freethought, humanism, secularism, and other nontheistic viewpoints particularly relevant to nonbelievers and skeptics of the paranormal.
They challenged me, before I placed my hand on my computer screen and his picture came into my head.
End of that one.
The Curse of Hurricane Norbertupload.wikimedia.org/wikipedia/commons/5/5f/Norbert_2008_track.png
Hurricane Norbert is tied with Hurricane Jimena as the strongest tropical cyclone strike the west coast of Baja California Sur in recorded history. The fifteenth named storm, seventh hurricane, and second major hurricane of the 2008 hurricane season, Norbert originated as a tropical depression from a tropical wave south of Acapulco on October 3. Strong wind shear initially prevented much development, but the cyclone encountered a more favorable environment as it moved westward. On October 5, the National Hurricane Center (NHC) upgraded the depression to Tropical Storm Norbert, and the system intensified further to attain hurricane intensity by October 6. After undergoing a period of rapid deepening, Norbert reached its peak intensity as a Category 4 on the Saffir–Simpson hurricane wind scale, with maximum sustained winds of 135 mph (215 km/h) and a minimum barometric pressure of 945 mbar (hPa; 27.91 inHg). As the cyclone rounded the western periphery of a subtropical ridge over Mexico, it began an eyewall replacement cycle which led to steady weakening. Completing this cycle and briefly reintensifying into a major hurricane, a Category 3 or higher on the Saffir–Simpson hurricane wind scale, Norbert moved ashore Baja California Sur as a Category 2 hurricane late on October 11. After a second landfall at a weaker intensity the following day, the system quickly weakened over land and dissipated that afternoon.
upload.wikimedia.org/wikipedia/commons/d/d4/TD_Fifteen-E_2008_Oct_4_1445Z.jpg
The origins of Norbert were from a tropical wave that crossed Central America on September 26 and September 27. An area of disturbed weather formed near the Gulf of Tehuantepec on September 28,[1] which at that time was mentioned on the Tropical Weather Outlook (an outlook issued every six hours during hurricane season by the NHC that notes the possibility of tropical cyclogenesis during the next 48 hours).[1] Drifting westward off the coast of Mexico


en.wikipedia.org/wiki/Hurricane_Norbert_(2008)
SO WHAT DID I SAY?1) My post is dated the 16th Sept 20082) It returned in eight days as I said on the 26th and 27th Sept 2008 (okay I was 2 days out..but this is arguable)3) It started forming and CROSSED central America like I said. I mentioned Miami. Hence it started and crossed over to The Gulf of Mexico and moved up to Baji California!4) Yes South West and moving up to California and the WORST in history. Read the link.
Okay you guys.....you wanna the truth? I said it but my post says 'unread'....what a sad world!