Post by georgek on Oct 15, 2016 16:20:22 GMT 1
The Law


The law entitles both the defendant and claimant a solicitor or a barrister. A barrister is a cheap and easy way of coping with a situation and it is what we call
DIRECT ACCESS.

A solicitor however will act for the party concerned and mediate between their clients whilst the Direct Access has limitations and meant that I had to do all the work with the help of my spirit guide who acted as my lawyer. The reason why I/we opted for this cheaper option was the cost. The defendants are millionaires and had the intent of driving us away from our property.
How These Gangs Form


I get this all the time, and it is the suffering that I get for being different. They take one look at me and 'sparks begin to fly' When people normally meet, there is a congenial or discordant feeling. With me it is the latter. The brain talks one way and the mind talks another. Our brains work harmoniously whilst our minds are in discord. Often they cannot see the reason but just feel 'uncomfortable' . I am not asking for sympathy as I accept my failure in these cases. I know it is my fault...and to be honest I am not really bothered what some may think of me, but you are welcome to give your own stories.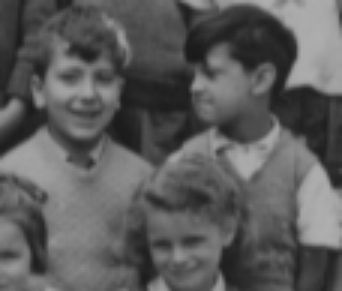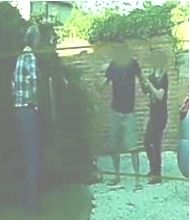 They say:- "Ahhhh....it's YOU George!!!" I say "Fine....just put me in a house in the middle of nowhere so that I can live in peace" Still does not work! I have miles of open fields...but it just takes one from a house 2000 yds away! Still no peace
I used to get this on forums a lot and at college. I was told that I was too clever and that I was being selfish as to lower my marks because I am a failure in life whilst they needed qualifications and I could just go back on Income Support and that I was too old. I felt hurt and humiliated and was made to change colleges as the staff were already on their side. I made my money, success and ambitions and hence bought a house in the country to the equivalent of $1000,000.
Unfortunately I do not look like I have money, as I still drive my old Fiesta and they see this as an embarrassment my car being parked to their limousines , even though on my property. They invaded my property, got me to cut their grass, smoked us out and began using chainsaws outside our house.
After we had our central heating oil stolen, we decided to place CCTV cameras around our property, after I was accused for inviting crime, and then told that I was spying on women and children. I had enough and although I wanted to leave, selling my property and having to declare neighbour problems would result in difficulty selling. The police made me take down my 'No Parking' sign and as not to park at least ten feet away from these people (even on my property) as it was harassment.
They were too many to fight, and when the neighbour threatened to hit me on at least three occasions I decided on a Interim Injunction.
I hired a barrister and had my spirit guides instruct whilst I relayed things back to my barrister. In the meantime, I had to stay at my other address
(we have five houses...so I am sorry for those who think I am a down and out without money and a life and that I am on forums due to loneliness. FAR FROM IT....I LOVE THE SUBJECT. This is not a moan....but a way that spirit guides support their victims in times of disharmony, as I will demonstrate with live videos how they interact later on...I am a bit busy at the moment)
These distant neighbours want to know why we have other homes and still live here, as we do not have any rights because we are like lodgers. Truth is that we are trying to build a life, but at the moment, I feel too scared to go to our home, and just await nightfall so that I do not see them. As to look at them could stir their anger and amount to more money on solicitor fees. Such is life. My guides say that I must stay...I hate it!
The Story



1) We moved into our country house back in April 2011. Everything seemed fine, and in order to show a good start we did our part in neighbourly fashion. I used to cut their grass and provide assistance in the best way I could.
2) The doorbell started ringing by itself. WE thought that this may be due to an electrical fault, and at first ignored it. There would never be anyone at our door, as we could validate this on our CCTV. This started becoming more regular, and every time I looked out of my window, I could see these neighbours either arriving to their property by car or leaving their house. It happened every time and must have rang at least fifty times in a year. I kept asking Julie:- "What is about them???"
3) Things started going wrong after they lit bonfires feet away from our property placing plastic pots as the burning became a real nusience, as they would often let their friends burn their rubbish who lived far away. These fires would smoulder up to 24 hrs a day and made us sick. We politely requested an alternative, but were told that there was nothing that we could do, and just to show us, they would light another one right now.
4) We contacted the authorities who said that if we wanted peace and quite, that we should go and live in a field and suggested mediation. We found this unfair as they were bias and sought the aid of a barrister.
5) By this time my spirit guide was advising me on what to do. Every time I got an email or anything relating to the case the burglar alarm would sound by itself. It became so regular, that I was able to set my camera to capture the evidence. Our door bell would ring as to watch them and to get my camera ready.
6) The defendants literally had no defence and with my refusal for mediation, they were trying to get the case thrown out of court. This information I passed on to my barrister.
7) Our paperwork got confusing and we had to issue a Cost Summons before the Injunction and this created problems as the date was now altered and their solicitor used the delay to cancel the case. By which we got a warning letter from their solicitor that they were now seeking high costs and if we did not drop the case, then our costs and penalties would exceed $56,000. I realised that the Defendants were now trying to get rid of us, by bankruptcy as to sell our property to leave. They had the money to wipe us out...or so it seemed.
8) My next course of action was to visit the courts as to fix the date of the penalty and to query the costs. I arrived at 2:00 pm and the counter was shut. Time was now the essence as in order for an Injunction to be valid, it had to be done straight away. I left the courts thinking that I should just forget it all, as by now all the neighbours had taken their side. They wanted my land to park their cars. I was walking past the Central Library on the way to my car, when I realised that the although the counter had stopped serving, the courts were open until 4:45 and I needed their telephone number. So in order to access details, I had to use the library's computers. Before this could be done, I needed my user name and log on details, by which I approached a counter staff who wrote it down on a piece of scrap paper.
9) Although I rang the courts, I had got no reply and in my sorrow, decided to go for a coffee at a McD****** Restaurant. As I opened my wallet to take out my money, the paper handed to me by the librarian was faced down the other way in the slot of the purse. This is the document:-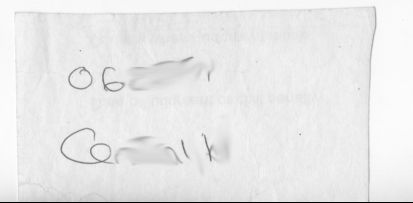 I have smudged my details for obvious reasons. BUT on the flip side staring me in my face was this!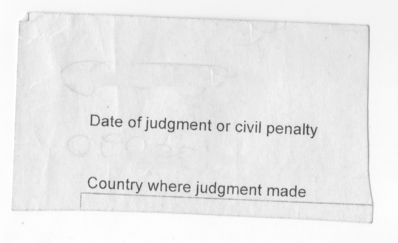 My guides had done the work for me, saying that I must go through with it, or face a penalty from the Defendants solicitors based on court action if they were to counter sue? All the time in my head, prior to all this, I was thinking 'penalty' and what about the date of the judgement that I should fix?


IF there are any keen boffins around.....they can listen carefully to this recording and hear EXTRA voices talking to the cat going under the bed. Extra voices ALWAYS play on my recordings Also, listen to the static . The Defendants at this time were coming towards our property to get to their car for work. At first I thought it was the telephone ringing? The number on the alam box said '4'. This being the hall way containing protection from the four icons on the wall. If you play a previous interview with my mother, she will explain that they are there to protect the property. Saints...UFOnautes...ghosts...let us say spirit guides?

How the System Works?
A bit similar to the UFO situation. They go for the weakest link in order to save money. The
(notice I do not name
) au*****ties want to save money and often go for the weakest link. They are not interested in YOU...they just want to close things down. If a distant neighbour for example parks in your driveway, they call it TRESPASSING. If you complain, they call it under the Human Rights Act that their vehicle needs a safe recluse.
The au*******ties don't want to spend time and money investigating, so they way up the situation to close it down. They will eventually call for a MEDIATION which will allow both parties to negotiate a common ground. It means that in order for you to be reasonable, you have to say something like:-
" Oh he can come in my house or park on my land three times a week but not seven."
Under common sense you would normally tell them to get lost. BY doing so, you make an enemy with the state, because the problem still persists. They begin to threaten you with what is called a HARASSMENT ORDER. You think:"How the heck has that come about?" It means that if this neighbour comes and smashes you in the face and you report him, the authorities will turn around and say that you induced your OWN injuries and by reporting him, you are harassing! You get TWO harassment warnings
( a bit like forums
) and you become a permanent bad character which will stain your reputation for life
(a bit like an IP address)
By issuing two Harassment Orders they can take you to court, forget all about your complaints with your neighbour as now it has become their matter and you can go to prison. That way, they get rid of you and the problem stops.
This is what my guide was helping me with.
So you say.....'sod it' all I will take this person to court (Like I did). Then you have another problem. It is like calling for 'The Angel of Death' (no I am not talking daft) The Angel of Death does not return empty handed and the courts will ask:- "What the heck has this been brought to us....have you not tried mediation?" Woe.......THERE is the danger. So he goes to court as to get it throw it out, putting his costs into thousands.
By this time we were dismayed and thought about giving up then the fear enveloped me as I was shaking.
Two days before the hearing, my girlfriend (living with me) text me whilst I was at my other house. Here are the texts:-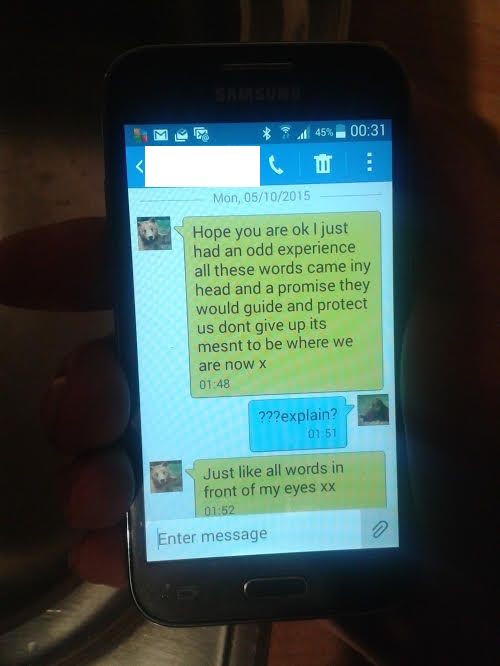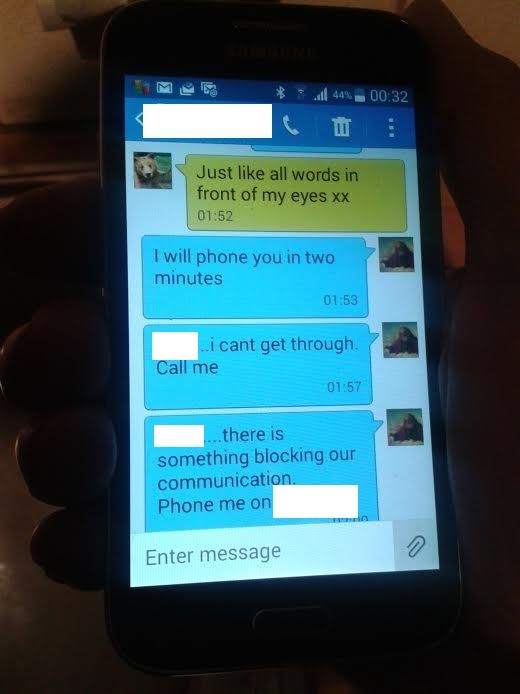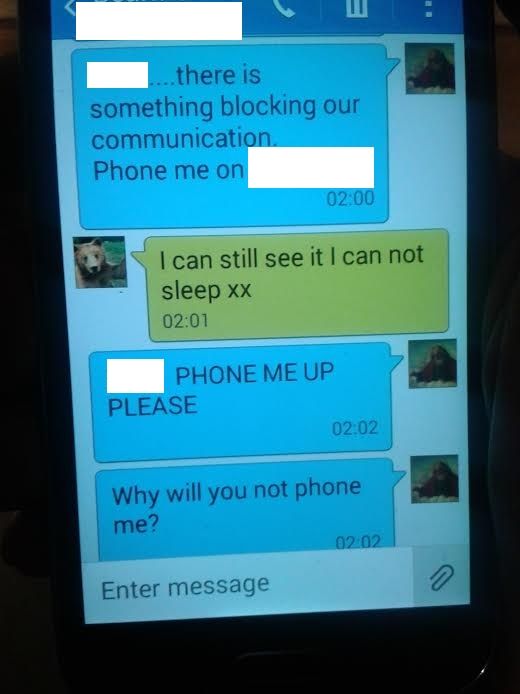 My guides take over, as I instruct my barrister who then comes up with 'Plan 'B' by adapting a PRIVATE mediator before going back to court for a cost settlement.

What Happened Next?
Whilst this was all 'going on' our doorbell and burglar alarm were ringing at about five a day. To check my mail from my barrister and send this and that information. All the electrics started going peculiar and the CCTV stopped sending pictures whilst the court was in progress. Then it ended on the 5th November 2015 as they had little choice but to pay their heavy costs.
My door bell then rang for the very last time just before I went to bed, but instead of playing the normal 'ding dong' which always used to play four times, it played a 'D' Day victory tune for a minute.


Then stopped never to ring by itself again together with the burglar alarm for one year.


Then panic starts with the Defendants, as all they have to show to the court is my unfinished fence (to keep him out) with a nail protruding that may scratch his children) They knew they would lose, as I had about thirty pictures and videos as my proof all helped by my guide to warn me when he was up to something. by either our door bell or other means. My mate said:- "Crikey...he will soon be looking in your dustbin!" I said he already has, as I have my pictures and I am now chaining it to the bumper of my car so he does not keep shoving it off my driveway. It cost him thousands in solicitor fees, whilst I only had to pay a few hundred by using Direct Access.
Up to Now



One year later my door bell started ringing again with the same 'ding-dong' four times, then after a year of silence, the burglar alarm started going off by itself about five times in about ten minutes.
Trouble had started again as the neighbour began breaking the Consent Agreement. We had no choice other than to seek a solicitor this time, with the threat of taking them to court with a 'Contempt of Court'
My solicitor wrote to them and they agreed to stop.
The doorbell rang again after this was agreed and again playing the 'D' Day Victory' tune.
This was back in September 2016 and now we are at peace again.
As shown in my post...I had no choice other than to make or break. If I had left him alone, he would have taken over my property and by reporting him, would have got me into trouble. The neighbours have obviously taken his side as no one speaks to us now. (I love that) . This is what I always wanted...peace and quite...but there is much danger as I have hurt too many now...They leave me alone...so that is great! But' knives are sharpening' as I only go to my house at night now ....too many.
These blinding messages even happen to mods as one thought to delete my post? So I think...otherwise why recycling-meaning they are more intelligent than some may think!!

(yer....in other words...read what I say as georgek has been challenged with a task!)



CONCLUSIONThese entities'guides are very powerful and can blind you with visions as well as controlling things from thousands of miles away, including words that write into a persons vision. I had this a few times, as it is their way of saying:- "LISTEN"It all started for me at a very young age as I did my first automatic writing.

I may have mentioned this before, but in my hallway, I have 4 icons of the apostles as the paint probably came from recycled paint back in the time of Jesus. They have been protecting my family for generations and the reason why I am alive today! They have been placed in my house to protect it, when we bought it. The burglar alarm activates in this hallway and when we deactivate the alarm it says number 4!
My family originate from the Kingdom of Amathusia in Cyprus where the church of Ayios Tychonas was built from the ruins of the temple which originates from Atlantis and the UFO people. Villages at that time were 'close knit' and the power of vision from the gods must be strong?
Okay...just my opinion.... end of this long post.