Post by georgek on Nov 11, 2016 18:50:00 GMT 1
Okay we are not talking triclops but the eye of clairvoyance which everyone has but do not always know when they are using it.
You see again......society has got it wrong.
The Third Eye is situated on the front of your temple area known as the forehead.
Now this is a first .........as it has just come to me now, and I bet there is not an official explanation in the dictionaries?
Why do they call it........ your temple?
Yer...you see...you DO KNOW!
Ever watched The Saint on TV?
Some designer idiot came up with the name:- Simon Templer being The Saint. Get it....Saint=Templer!!! or Saint=Temple!
Temple from the church where it is the main head house of communication with God!
The Indians realised
(the ones with the turbans...not the Red Indians)
that the Third Eye is the connection between God and man and most women have a painted spot on their forehead to protect it!
Even Tonto in The Lone Ranger had a head band...they knew alright and are not the savages that the white man had made out.
Then came the hippies and desecrated the whole lot as they are still sweeping up the sandals off Glastonbury as I write.
I made my own headband for psychic protection out of a coat hanger. I hope to explain how it works later...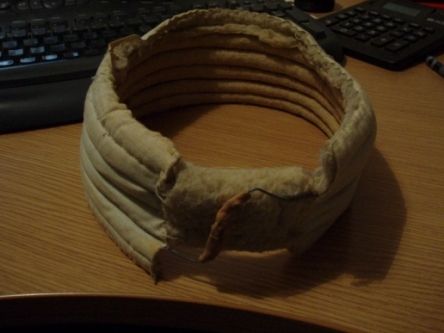 I have made past postings about this on the Internet and I think folks were impressed? The metal acts like a coil of magnetic repulsion on the basis of electricity.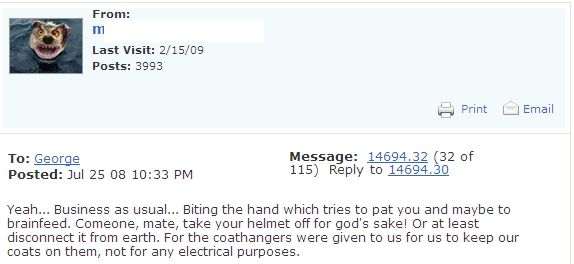 I think the principle is similar to a Tesla Coil. Or better still......an inductance coil. It is better explained by Faraday and Lenz's Laws of physics. The brain/mind creates it's own electricity and when a coil is encasing this level of activity, such a shown here, a magnetic barrier occurs which science says does not exist but I do!
Without going into too much detail, I was unfortunate back in the 1980s to have created a 'disturbance' in the astral, allowing my own energy to be turned against me by discarnate entities. It was my own fault, as once these doorways are opened with wrong reasons, they cannot always be closed. I was lucky to still be alive, but most have little to worry about, as it is your own disbelief which protects you.
(and I am not meaning to be rude)



The Third Eye and Solar Plexus are the two entrances which allow invasion. After covering my forehead, I could actually feel the entities trying to get in, like having paper flicked at my head and bouncing off. Having failed that entrance, my Solar Plexus was invaded and THAT is the most horrible sensation that you can imagine. All your body shivers and your hair stands on end with goose pimples. Just like someone scraping a blackboard with nails. Anyway..it hurts just talking about it.
Getting Back to Our Third Eye
The Third Eye is the gateway of clairvoyance and I have already mentioned the temple and looking further back, we also have The Knights of the Templar. It is said that they were called that, because they were near The Temple of Solomon
(rubbish
)
It was envisaged that it was better to suffer with a hot poker up your rump than to spend eternity in Hell. So The Templars took it upon themselves to make converts as it was better suffer a bit of pain than to spend your end of days in the sulphur pit near Jerusalem...lol. It was taught that there was only one saviour and that unless you accepted that JC was the one and only god, then you would be saved. After all...it was money also for the church!
The real story, is that although something like that really happened, The Templars are connected to The Cathars who believed in reincarnation and telepathy. The sacredness of our inner temple was of prime importance as they knew that Christianity spread from Rome was not true, as it was their task to spread the Cluniac religion which took a different path through France. This offered a different story, that Jesus was human and that he was married. The Holy Grail is in fact his blood, and the spreading of The Holy Grail is the realisation that orthodox Christianity was wrong. As it was the church who wanted self recognition as to both become richer and famous.
The Templars gave way to The Free Masons who still have the secret...the rest you can read yourselves.
Back to Our Indians



Red indians to be precise. They were very spiritual and in fact were just protecting their land from the White Man. Like every distorted bit of evidence, the indians were treated as bad and the cowboys as good.
Now we are beginning to realise that this is the case. Everyone says they now own a Red Indian spirit guide, but the truth is that they ain't enough of them to go round! They peppered their rumps back in the 1800s with untold suffering, now everyone wants one. The poor indians have had enough.
(A bit like me.....I bet some b*gger will be selling georgek talismen when I am dead.

)



It is interesting to realise that the closing of the Third Eye has led to SPIRITUAL BLINDNESS. I am not a religious person but my beliefs are different.
This is the world of MATERIALISM and a major issue of 'The War In the Heavens' We are taught to believe that UFOS are nothing more than phenomena and in most cases not even that!
Our blindness has led us to believe that it is richness that makes people, offering respect and recognition. In fact it is the basis of the East and West tribulation, as it shows that Satan is doing a good job! The world is not separated by people, but through religion and brainwashing. This is why no one believes what I say. The Illuminati as thought control in George Orwell's books are coming very true.
Soon people will not be allowed to think, and even as I write here, I have to try and watch everything in my head. Why can't people just say what they think. NO one says that they have to listen to it all...it is easy...just don't read! Those who do want to read, let it be THEIR choice and not OTHER PEOPLES.
This be the way of free thinking people not like robots who have to shut their mouths. This is why forums are empty, when in the past they thrived. People are scared to say what they really think....but hey..... it is not me here on the question block, but all that I write about on the subject that I love



(btw.....their clapping ain't free, I told them tp make their bill out to the manager as he handles all the finance around here)