Post by georgek on Nov 13, 2016 4:23:02 GMT 1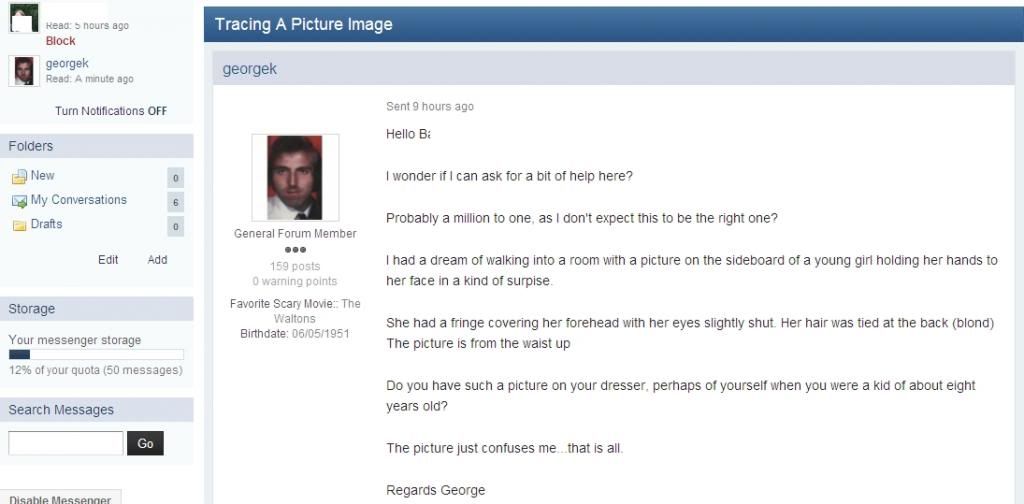 Here is my drawing that I sent her.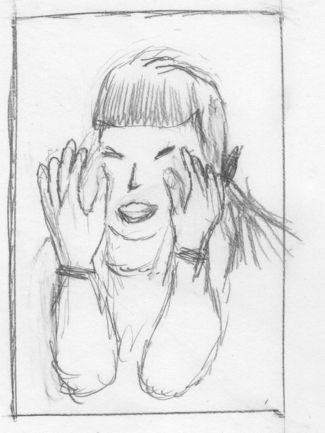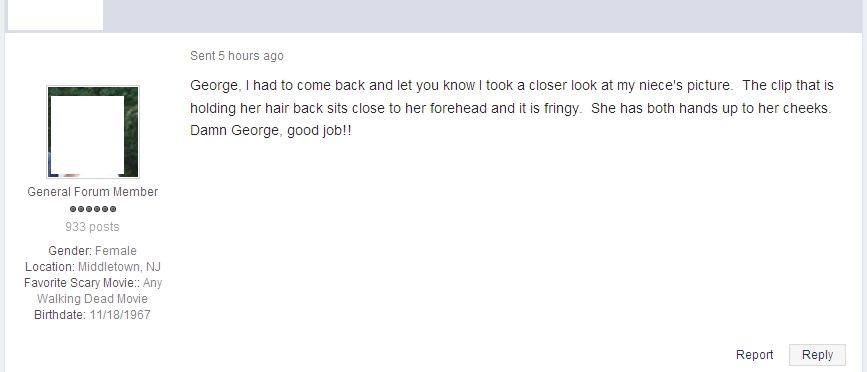 I think the biggest problem here, is after waking up, having to draw what I could remember whilst sleeping. No excuse, but as I have said many times...I am no artist!
The Saga of Broom Hilda
I better explain a bit about what all this was about. Broom Hilda was in fact a witch calling herself Hag-Gula from a previous incarnation of her being. Well.....when someone like me are on paranormal web sites...I do 'rock the boat' a lot as these great psychics do not like to look inferior. I used to get a lot of 'flack' from her and jokingly I called her Broom Hilda. A bit of a nasty one who wanted to hurt me by her spell casting. She knew the arts only too well, and when someone is tampering with my own energies it can get very potent!
(of course I believe in remote interation...I am proving it to you!)
She was an adept at herbs and also knew her art too well.
I would like to make a point, that I am protected by spirit forces which I am very thankful.
This is a post I made and take a look at the bit with the boarder around it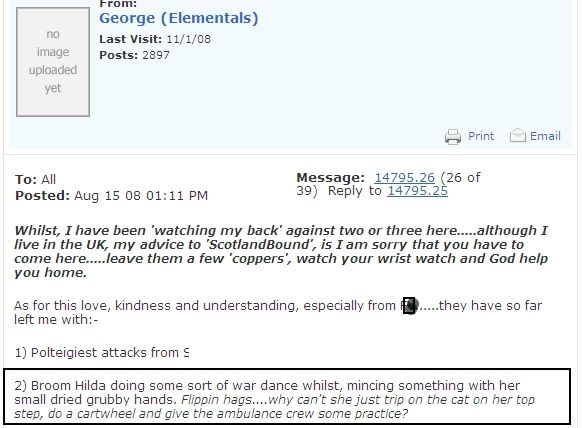 My point is.......
SHE DID
and was rushed to hospital. This is why I have to be careful what I say. I said it 'tongue in cheek'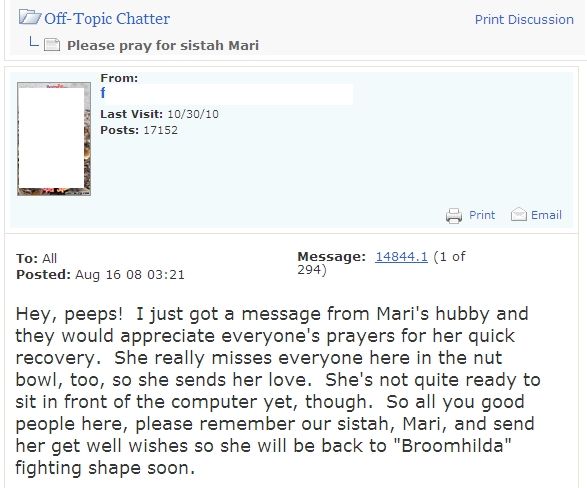 It is no joke when you are fast asleep and something drops or flies across the room and hits you in the eye..it HURTS! If a person rants spells to another person without good intention, it invokes the law of returning to them, if the person at the other end returns it intentionally or unintentionally.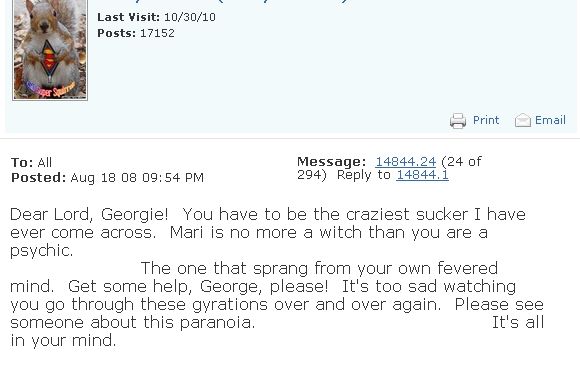 Some will say say:- "Why do you bother"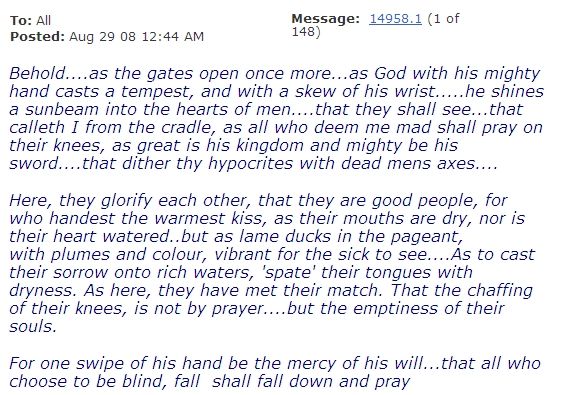 (I must have been in a trance with this one?)
I came to talk about the paranormal, and yes I may have some wacky ideas. But hold on...these are MY ideas and those who wished to participate discuss the subject matter. What right have people got to bully others as to make them out as fakes, by destroying the person so as to reject all their beliefs and work?
You may add, that I ought to be more open minded...and I DID try and see it from THEIR point of view. I thought:- "Hmmm...they may have a point to feel the way that they do, so if I asked them to lay down their tests I would prove it to them" That way, I would have things written down in chronological order, date stamped with aim-result-conclusion. I said :_ "Show me where I failed...you cannot"
It was either that, or have my name ridiculed on the search engines! NOW...see if you can see my failures? None there!
I told her to now get on her knees and beg...for the THIRD time...and so she did for the last time.
Live Readings-Questions Posted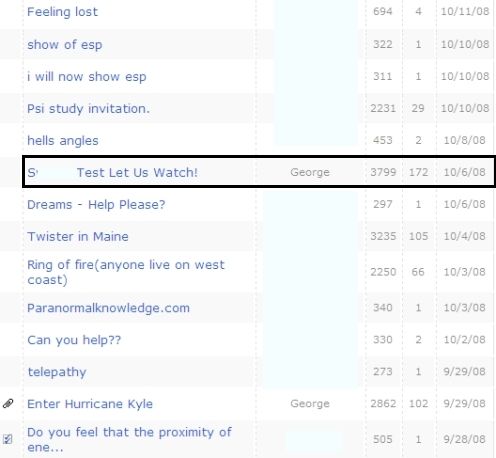 Tell me......straight to the point...challenged, then placed message on notice board then to await result...have I cheated?
The one above I showed on my earlier posts as having occurred 5 days later
Again..!!!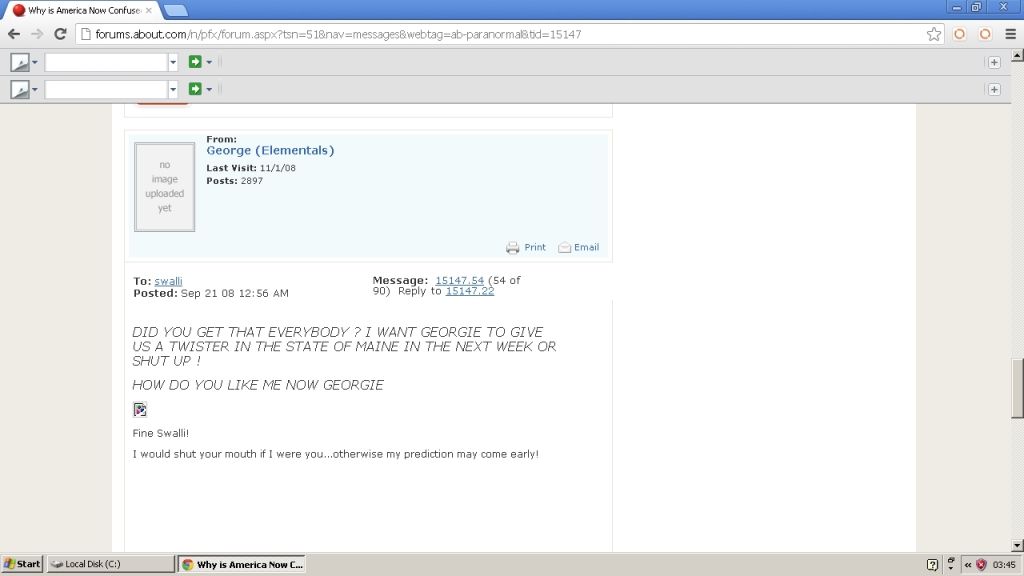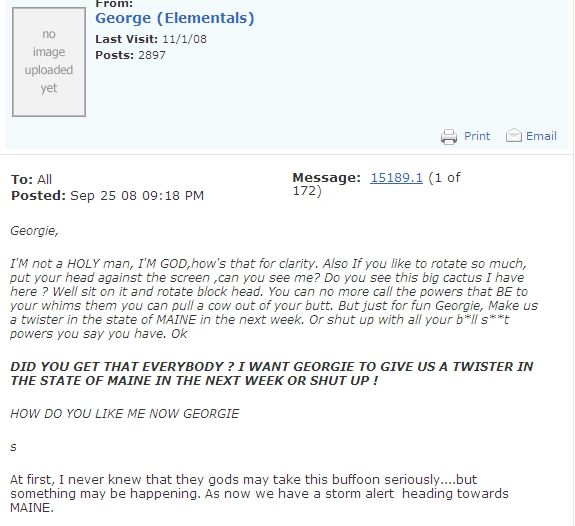 DAMN........just a few feet short!!!
Still hit it though!
Here is the result...see how they turned it around for me and shot it upwards?
en.wikipedia.org/wiki/Hurricane_Kyle_(2008)
Here is the text on the 27th Sept 2008
On September 27, the state of Maine issued its first hurricane watch in seventeen years with the predicted path to approach the eastern part of the state. The last hurricane watch issued for Maine

The strong winds toppled trees, leaving 500 customers without power. Rainfall generally amounted from 3 to 4.5 in (76.2 to 114.3 mm),[37] with a maximum of 7.15 in (181.61 mm) in Sedgwick Ridge. The heavy rains flooded several roads, causing traffic delays and road closures throughout southeastern Maine.[38]

After this.....I told him that I had enough of all this, and if he wanted more tests...that the next one will be out of his own lips and not mine, as to watch what he demands.
He then started arguing that I made myself as God, which I strongly denied.
Whatever it was...it hypnotised him because it was turned around.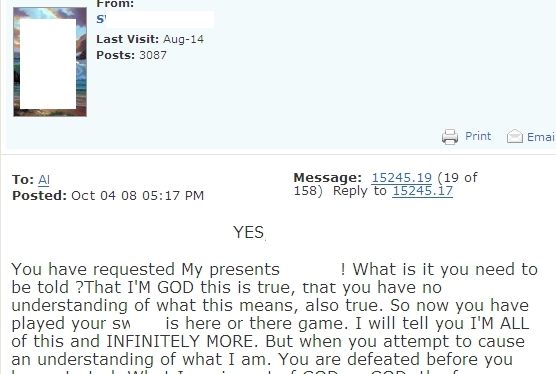 I thought...'blow him' this may be just a wind up or temporary but know...I found him on other forums claiming he was God.
They were saying that his 'cheese must have slid off his bread'
They wanted to make ME the fool...now THEY were the ones praying and being well...rained upon!
I think he never got over it...cos he found me on facebook. He realised something was strange, as I must have been using my computers kills to break into computers and main frame servers.
I even drew him on his demands without ever seeing him!


I even drew his pony tail which he tried to hide as he wore his sunglasses!!! He did ask me to draw him!
All the same...I have NO animosity towards this person, as I have solely placed the post because I feel it demonstrates proof.
I have to validate my words in order to make these points...
So I say:- "yer paranormal....think I am wrong...discuss my points...as I feel that if people are open minded enough to go onto these kinds of forums...they do not know me....so here I am saying now you do......as I need no more have to validate what others call madness!"
I have shown dozens of examples and witnesses as to what I say.
So if I must be judged ...do it fairly, ven if you say nothing.