Post by uforn on May 6, 2014 1:24:46 GMT 1
Avoid UFO Bureau Website They Promote HOAXED Material
As a UFO Researcher and someone that despises HOAXES and people that promote them Im sad to say over the past couple of days The UFO Bureau has been repeatedly posting HOAXED material on their website and sharing it on Twitter, (UFO Bureau is a well established website) I am going to show you links and screenshots of their posts. They have been Promoting well known HOAXERS Thirdphaseofmoon AKA Blake and Brent Cousins, I have shared Tweets with UFO Bureau showing them that Thirdphaseofmoon are HOAXERS yet they have ignored my Tweets and have continued to Tweet HOAXED material. I find this shocking to say the least since I thought they were a genuine news source.
I couldnt have been more wrong. For me its a kick in the face for people looking for genuine news on UFO's.
I can only assume UFO Bureau are out to discredit Genuine UFO Research by spreading HOAXED material via their website, Twitter and other social media. Or for monetary gain the more hits they get the more they make, but whatever the agenda its not very good for UFOLOGY especialy people that have done little Research on the subject and those that are new.
On May 3 they tweeted "UFO SIGHTINGS Thirdphaseofmoon® Rated Top Best UFO Channel On YOUTUBE!" so I replyed with "Thirdphaseofmoon AKA Blake & Brent Cousins are nothing more than Serial HOAXERS just google their names avoid their channel" then sent them a link to this website
www.kahunaresearchgroup.org/1/post/2013/07/krg-investigates-hawaii-ufo-hoaxers-thirdphaseofmoon.html
KRG Investigates - Hawaii UFO Hoaxers Thirdphaseofmoon, where they show clear evidence that Thirdphaseofmoon are HOAXERS.
Here is a screenshot ~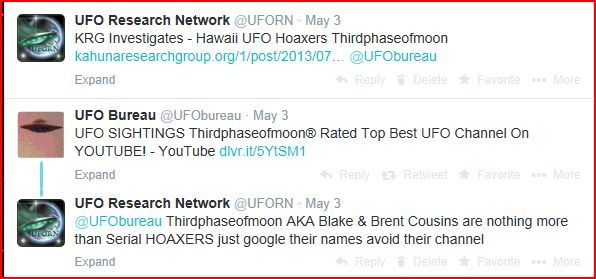 Direct link to
UFO Bureau Thirdphaseofmoon Rated Top Best UFO Channel On Youtube
UFO Bureau ignored me and the next day May 4 posted this
thirdphaseofmoon - YouTube
Here is a screenshot of my reply ~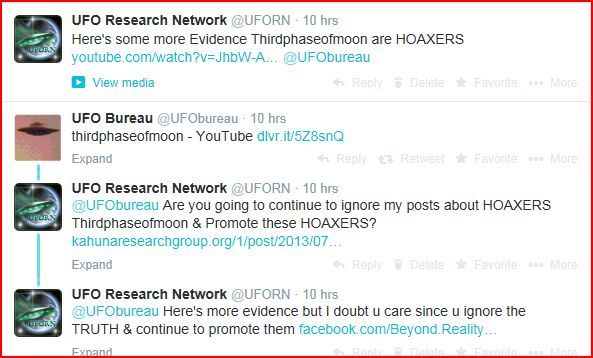 The links to my replys are
KRG Investigates - Hawaii UFO Hoaxers Thirdphaseofmoon
A facebook link by
BEYOND REALITY: The UFO & Paranormal Files
and a youtube interview done by sheilaaliens, video below ~
I also tweeted a couple of videos to UFO Bureau by youtube user HoaxKiller F who has debunked a few of Thirdphaseofmoon HOAXED footage, below is a a couple of HoaxKiller F videos.
The first is titled ~ HOAX! - THIRDPHASEOFMOON - VHS Tape UFO Sightings Incredible Footage of a Rare UFO Encounter
The second ~ HOAX! THIRDPHASEOFMOON - UFO Sighting Alien Creature Hides Under Moving Car!
I have no idea how much HOAXED material is being shared on Twitter by The UFO Bureau as they post a lot of Tweets and I dont look at them all, but the ones I do look at are what you see here.
About 8 hours ago The UFO Bureau was back Tweeting obvious HOAXES from youtube user Victoria Stevens. (Dont know who she is?) Here is the direct link to
UFO Bureau
Below is the video which is an obvious HOAX.
Below is a screenshot of UFO Bureau's Tweet and my reply
I acknowlege I was rather harsh in my reply but one thing I despise are HOAXERS and people that promote them, they need to be exposed so newcomers to the subject dont get lost in all the rubbish.
The UFO Bureau continues with other HOAXED footage by Thirdphaseofmoon as shown in this screenshot below, however it seems now they have removed them from their website as Im getting a 404 page not found from the links maybe Ive hit a nerve ?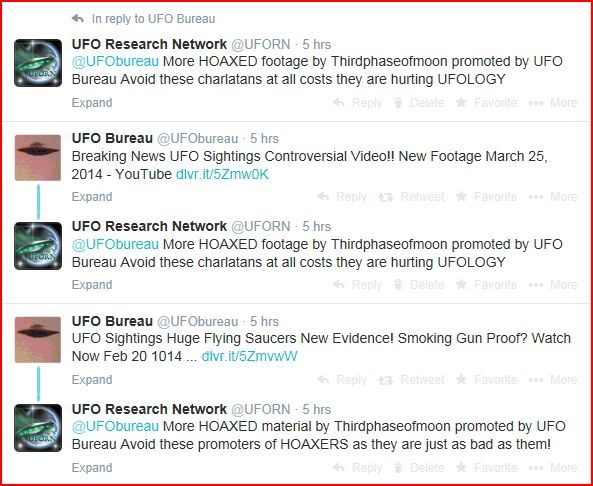 Here are the links which are 404's page not found
Breaking News UFO Sightings Controversial Video!! New Footage March 25, 2014 - YouTube
dlvr.it/5Zmw0K
UFO Sightings Huge Flying Saucers New Evidence! Smoking Gun Proof? Watch Now Feb 20 1014 ...
dlvr.it/5ZmvwW
I will update this thread as and when I get any new information I do hope The UFO Bureau will sort everything out but from what Ive seen so far I dont think they care, feel free to share this on any and every website and social media as you choose.
UFORN
Follow US On Twitter
@uforn
for all the latest news.