Post by georgek on Jul 5, 2016 4:36:00 GMT 1
They say that it is impossible to prove that UFOs exist. I can!
1) I have here an areal picture of Larnaca Bay in Cyprus taken by a UFO crew with my Olympus OM1 camera using 35mm 25ASA Kodachrome II film back in the early 1980s...as they had returned my camera back to me.
I asked the sky people for some pictures of themselves and they gladly obliged by giving me this picture taken from their space craft about one hundred and fifty miles from space.
At first I did not know what it was, and took it to Nottingham's Watnall Weather Centre only to be told that it was an areal photograph from space.
I contacted the meteorology department of Nottingham University and spoke to the head of department Professor Mat***s who cut the conversation short by putting the phone down.
Saying:- "You don't expect me to believe that?"
"But it is true....." (werrrrrr.....)
(So much for science and the prejudice that they expect us to accept.)


You see.....science is only interested in facts if it is something that it wants to believe. I am ashamed to be a qualified scientist as to be amongst those who have no real interest in what is there to study, but validate their facts on prejudice and personal beliefs.
Science should be open...but it is not. It only adapts itself to what people want to believe, based on opinion and how well it will be accepted.
I present My Case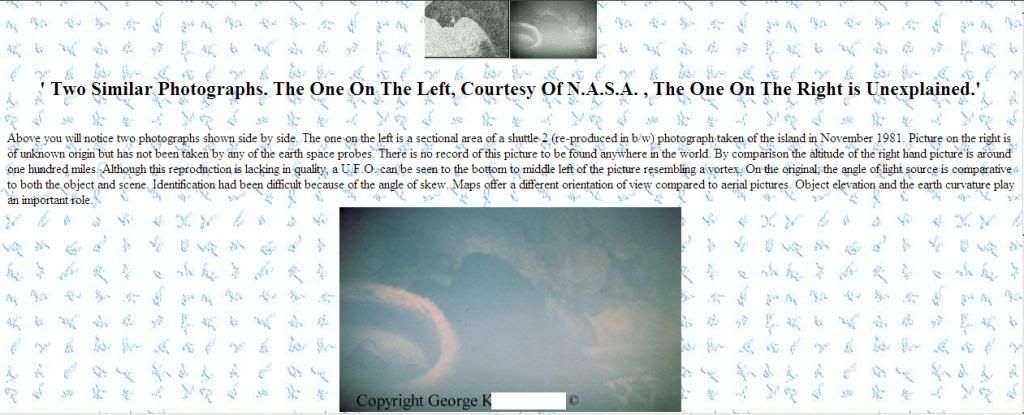 I had here a photograph taken from deep space and not by NASA which I had to identify. There was no point turning to science because science is corrupt
My first bit of research was to identify the picture. I purchased a book titled:- Images of Earth which contained photographic images taken by NASA astronauts.
After looking at hundreds of coastlines, none of them fitted, until I realise that there must be a connection to myself and this areal photograph.
I began looking at coastlines on the British Isles and still I was unable to find even the remotest identification.
My origin was Cyprus, as my mother is Greek Cypriot from Limassol, so I turned up the areal picture of Cyprus and found it! There is a slight angle of skew, as the UFO took the picture from a Westerly direction along Larnaca Bay. All the detail lined up to the exact contour of my UFO areal picture.
There were two major differences:-
1) My picture is BETTER than the picture taken by NASA astronauts, as NASA STILL has to take a similar one in quality to this one!
2) The second point of interest is this strange object at the bottom left.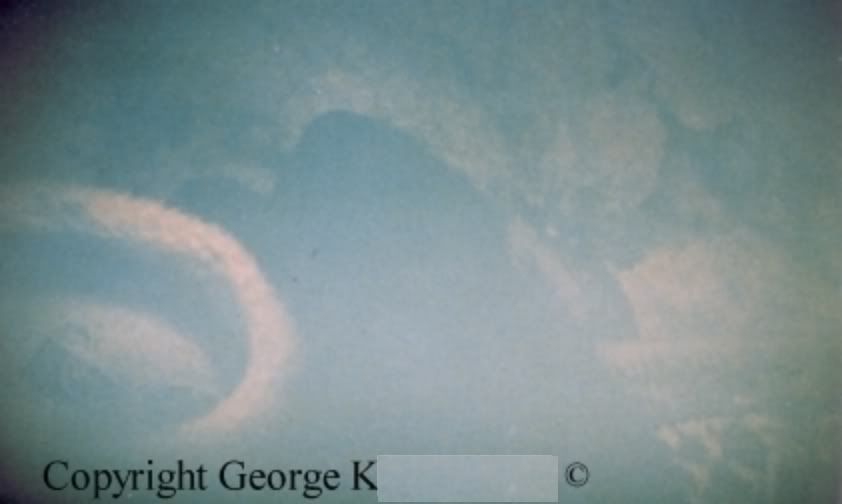 Could This Be a Satellite Picture?
The answer is NO. Satellite pictures are composed of simulated colour made up by horizontal traces which leave lines. Here is a zoom shot, where you can even see grain detail. This IS an original photo.
Why Have I removed My Surname?




I had trouble with those wanting to come and hurt me. My surname would reveal my location and I have been threatened many times.
Why Is This Proof That UFOs Exist?




Are you reading this NASA? Come and sue me if this is YOUR picture? For this, I want to see an identical one from your archives date stamped as I CLAIM COPYRIGHT to this picture.
Okay...no NASA as they cannot argue this picture, so if THEY did not take it, then WHO DID???
Wot me!?
No...sorry folks.....I can't fit a rocket in my back garden and certainly would not be able to afford one!
But woe.....we are missing the point here....NASA remember pull all the shots and they are the only ones RESPONSIBLE for space flight? Perhaps there are other countries now, but this one is date stamped in the early 1980s.
So if THEY did not take it...then WHO DID? After all...where are they to protect 'their baby' ? They cannot!




Then Have I Faked It?




In Early 1980? Surely not? How can anyone fake a picture like this?
Every single dot, pixel and sun ray is vital to this picture. Can an expert say it is real? Of course they can!
Oh you say this is a satellite picture? Then find it! Even if you did....it would never match or come anywhere close.
A satellite picture is a satellite picture...not an actual photograph. But then again it suits folks to say that it is an artificially composed image. That way they can keep their illusions and run away from the truth.
So What Does All This Mean?




It means that I AM a genuine UFO contact and what I say must be taken seriously. Otherwise break my proof and you break me. The only way anyone can do this, is to work on it by providing images. They arm't any so hence ends a debate.
I rest my case.