TR-3B
Jul 7, 2010 20:08:24 GMT 1
Post by Laurance on Jul 7, 2010 20:08:24 GMT 1
What does everyone think about the TR-3B?
For those that do not know or cannot remember here is a little refresher with some photos and videos.
The TR-3B is Code named Astra. The tactical reconnaissance TR-3B first operational flight was in the early 90s. The triangular shaped nuclear powered aerospace platform was developed under the Top Secret, Aurora Program with SDI and black budget monies. At least 3 of the billion dollar plus TR-3Bs were flying by 1994. The Aurora is the most classified aerospace development program in existence. The TR-3B is the most exotic vehicle created by the Aurora program. It is funded and operationally tasked by the National Reconnaissance Office, the NSA, and the CIA. The TR-3B flying triangle is not fiction and was built with technology available in the mid 80s. Not every UFO spotted is one of theirs.
The TR-3B vehicles outer coating is reactive to electrical Radar stimulation and can change reflectiveness, radar absorptiveness, and color. This polymer skin, when used in conjunction with the TR-3Bs Electronic Counter Measures and, ECCM, can make the vehicle look like a small aircraft, or a flying cylinder--or even trick radar receivers into falsely detecting a variety of aircraft, no aircraft, or several aircraft at various locations. A circular, plasma filled accelerator ring called the Magnetic Field Disrupter, surrounds the rotatable crew compartment and is far ahead of any imaginable technology.
Sandia and Livermore laboratories developed the reverse engineered MFD technology. The government will go to any lengths to protect this technology. The plasma, mercury based, is pressurized at 250,000 atmospheres at a temperature of 150 degrees Kelvin and accelerated to 50,000 rpm to create a super-conductive plasma with the resulting gravity disruption. The MFD generates a magnetic vortex field, which disrupts or neutralizes the effects of gravity on mass within proximity, by 89 percent. Do not misunderstand. This is not antigravity. Anti-gravity provides a repulsive force that can be used for propulsion. The MFD creates a disruption of the Earth's gravitational field upon the mass within the circular accelerator. The mass of the circular accelerator and all mass within the accelerator, such as the crew capsule, avionics, MFD systems, fuels, crew environmental systems, and the nuclear reactor, are reduced by 89%. This causes the effect of making the vehicle extremely light and able to outperform and outmaneuver any craft yet constructed--except, of course, those UFOs we did not build.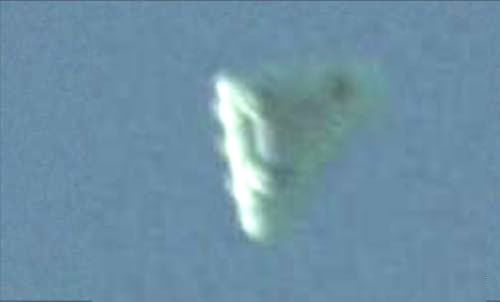 The famous Belgium Triangle 1990